How to Talk to Girls at Parties
(2018)
• John Cameron Mitchell • En salle le 20-06-2018

• Musique composée par Nico Muhly, Jamie Stewart (Xiu Xiu), Matmos


Le cinéaste John Cameron Mitchell renoue avec la comédie musicale rock après son premier film "Hedwig and the Angry Inch" (2001) et convoque pour la musique originale les artistes Nico Muhly, Jamie Stewart (membre du groupe Xiu Xiu) et Matmos. Il co-écrit même des chansons originales, dont "Eat Me Alive" interprétée par les acteurs Elle Fanning et Alex Shar. On y entend aussi des titres existants de The Damned, The Dyschords, The Velvet Underground, A.C. Newman, Amber Martin ou encore Dyslexic Cnuts...
[© Texte : Cinezik] •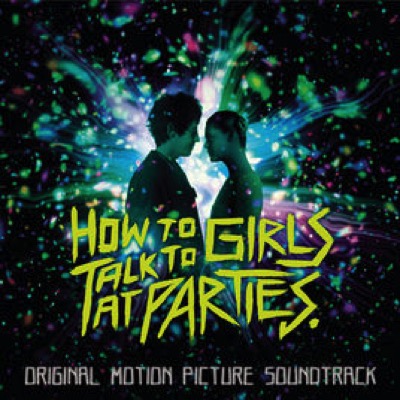 Sony Classical (11 mai 2018)


Tracklist (de la BO en CD ou Digital)
1. New Rose - The Damned
2. Planned Adolescence - The Dyschords
3. Angry Universe - A.C. Newman
4. Communion - The Dyschords
5. Extraction - Dyslexic Cnuts
6. Fuck All - The Dyschords
7. Going Straight - Xiu Xiu
8. Single - The Dyschords
9. Climb Over Me - The Dyschords
10. Rainy Life - Ezra Furman
11. Bermuda - Amber Martin
12. I Found A Reason (2015 Remastered) - The Velvet Underground
13. Nursery Chymes - Prolific Urdoos
14. Nobody's Baby - Martin Tomlinson / Bryan Weller
15. Requiem - Nico Muhly
16. The Body Celestial - Matmos
17. Flecken - Matmos
18. Eat Me Alive - Xiu Xiu
19. Between the Breaths - Xiu Xiu / Mitski
Voir le calendrier des B.O
Autour de cette BO
Propos du réalisateur
Je voulais éviter de tomber dans le piège de n'utiliser que des tubes comme souvent avec les films d'époque en choisissant quelques perles rares moins connue de ces années-là - les Damned, les Homosexuals, du dub reggae - avec des chansons live d'un groupe punk fictionnel, les Dyschords, créé par Martin Tomlinson et Bryan Weller. Carl Newman (des New Pornographers) et Ezra Furman ont aussi composé de la musique punk. Nico Muhly, génie de la musique classique, a créé les arrangements vocaux extraterrestres ainsi que la musique du film en collaboration avec Matmos, les maestros des sons organiques. J'ai briefé Matmos pour qu'ils créent des boucles hypnotiques inspirées du krautrock et des rythmes qui ne sonnent pas trop électro : plutôt le son de Can que celui d'une machine. Jamie Stewart (de Xiu) et moi avons écrit notre seule vraie chanson de comédie musicale, chantée en live par Elle et Alex, l'hybride punk-alien "Eat Me Alive", ainsi que "Between the Breaths" inspirée par les Cocteau Twins, interprétée par l'incroyable Mitski. Amber Martin and Brett Every ont fourni les superbes "tubes" radio des années 70. Tout a été fait maison !
John Cameron Mitchell
Tracklist
New Rose
par The Damned
Ecrit par Brian James

Starring Dub
par Dub Specialist
Ecrit par Cornel Campbell & Clement Dodd

Stop Crying
par The Silvertones
Ecrit par Clement Dodd, Keith Coley & Gilmore Grant

Two Bags of Wool
Ecrit par Bryan Weller

Planned Adolescence
par The Dischords
Ecrit par Martin Tomlinson and Bryan Weller

Break Every Window
Ecrit par A.C. Newman

Between the Breaths
par Mitski
Ecrit par John Cameron Mitchell and Jamie Stewart

I Found a Reason
par The Velvet Underground
Ecrit par Lou Reed

Lightning Field
Ecrit par PJ DeBoy

Bright Lights, Long Shadows
par Amber Martin
Ecrit par Brett Every & Amber Martin
Good for Nothin'
Voix : Amber Martin
Back-up vocals : John Cameron Mitchell, Shannon Conley & Justin Craig
Ecrit par Marc Ferrari & Michael Mcgregor

Climb Over Me
par The Dischords
Ecrit par Martin Tomlinson and Bryan Weller

Up Country
Ecrit par Simon Park

Angry Universe
Ecrit par A.C. Newman

Robot Dancer
Ecrit par Frank McDonald & Chris Rae

Soft South Africans
par The Homosexuals
Ecrit par Bruno Aleph Wizard & Jim Welton

Going Straight
Ecrit par Jamie Stewart

Rainy Life
Ecrit par Ezra Furman

Flying
par The Homosexuals
Ecrit par Bruno Aleph Wizard

Eat Me Alive
par Elle Fanning, Alex Sharp & Jamie Stewart
Ecrit par Jamie Stewart & John Cameron Mitchell

Lost in Dub
par Dub Specialist
Ecrit par Clement Dodd

Flecken
Written and par Mathos

Communion
par The Dischords
Ecrit par Martin Tomlinson and Bryan Weller

Nursery Chymes
par Sir Alick & The Phraser
Ecrit par Bruno Aleph Wizard

Extraction
par The Dyslexic Cnuts
Ecrit par John Cameron Mitchell & Justin Craig

Single
par The Dischords
Ecrit par Martin Tomlinson & Bryan Weller

Exit Requiem
Ecrit par Nico Muhly

Bermuda
par Amber Martin
Ecrit par Brett Every

Nobody's Baby
Ecrit par Martin Tomlinson & Bryan Weller

Fuck All
par The Dyschords
Ecrit par A.C. Newman
Autres BO de Nico Muhly
Nico Muhly a également écrit la musique de : Joshua (2008) • Le Liseur (The Reader) (2009) • Margaret (2012) • Kill Your Darlings (2015) •
Vos avis