Concert hommage à Stanley Donen
par John Williams
Boston (Etats-Unis), 28 mai 2009
Après les concerts des 26 et 27 mai, durant lesquels était joué en première mondiale le nouveau concerto pour alto et orchestre composé par John Williams, un autre programme a donné lieu à deux autres concerts, les 28 et 29 mai. Cet autre programme comprenait notamment une partie en hommage aux comédies musicales du réalisateur américain Stanely Donen, célèbre pour avoir filmé Gene Kelly dans CHANTONS SOUS LA PLUIE (1952) puis dans BEAU FIXE SUR NEW YORK (1955), mais aussi Audrey Hepburn et Fred Astaire dans FUNNY FACE (1957) ou encore Cary Grant dans KISS THEM FOR ME (1957), INDISCRET (1958) et bien sûr dans CHARADE (1963) où il retrouve Audrey Hepburn. Sous la baguette de John Williams, le Boston Pops Orchestra a fait revivre ces musiques populaires, images à l'appui, après une présentation du film en la personne de... Stanley Donen lui-même, 85 ans et toujours de bonne humeur ! Celui-ci a en effet ponctué les intermèdes musicaux d'anecdotes sur ses films, discutant sur scène avec un John Williams très détendu, admiratif et l'oeil pétillant.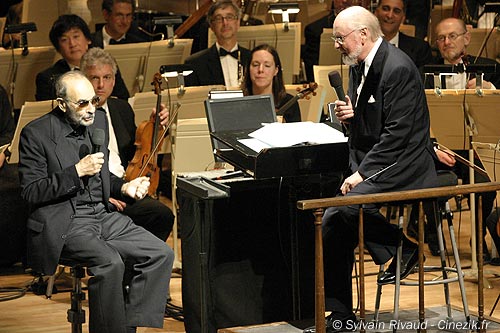 Programme du concert du 28 mai 2009

* March from The Adventures of Robin Hood (Korngold)
* Suite from Jane Eyre [Lowood - To Thornfield - Reunion]
* Flight to Neverland from Hook
* Two Selections from E.T. The Extra-Terrestrial [Stargazers - Adventures On Earth] - Harpe solo : Ann Hobson

ENTRACTE
* Hooray For Hollywood (Whiting-Williams)
* A Tribute to Stanley Donen:
You're All The World To Me, from Royal Wedding
Bless Your Beautiful, from Seven Brides for Seven Brothers
I Like Myself, from It's Always Fair Weather
The Worry Song, from Anchors Aweigh
Singin' In The Rain, from Singin' In The Rain
* Superman March
RAPPEL
* Main Theme from Star Wars
Ambiance très détendue, donc, avec un début de programme similaire aux deux premiers concerts, incluant la marche de ROBIN DES BOIS de Korngold, la suite de JANE EYRE et "Flight to Neverland" de HOOK. La nouveauté du soir, c'était un nouvel arrangement, spécialement pour la harpe solo, de deux morceaux de E.T. THE EXTRA-TERRESTRIAL. Deux morceaux absolument magnifiques, particulièrement délicats, où la harpe évoque la douceur de l'enfance, et l'amitié qui se noue entre le personnage de E.T. et celui du jeune garçon Elliott (voir la vidéo en bas de page). Toute la magie de cette sompteuse partition de John Williams - qui lui valût un Oscar en 1982 - est ici présente, et même sublimée par la harpe cristalline de Ann Hobson, puis ensuite par l'orchestre qui reprend en fanfare le célèbre thème de E.T. Et s'il s'agissait de la plus belle musique composée sur le thème de l'enfance ?
Après l'entracte arrive Stanley Donen, qui introduit chacun de ses films par une anecdote, stimulé par un John Williams amusé qui joue l'intervieweur. Les deux bonhommes semblent discuter devant le public du Symphony Hall comme s'ils étaient dans leur salon. Rapidement, John Williams prend la baguette et dirige plusieurs séquences de comédies musicales interprétées par Gene Kelly, notamment un épisode musical mettant en scène la souris Jerry des cartoons "Tom & Jerry". L'interprétation est vive, ludique, brillante, et permet de faire revivre pleinement la belle époque des comédies musicales, au point de ravir complètement les néophytes présents dans la salle (et pas spécialement friands de comédies musicales) mais aussi Stanley Donen lui-même, qui après chaque morceau n'en revenait pas : « Mais comment fait-il cela ? »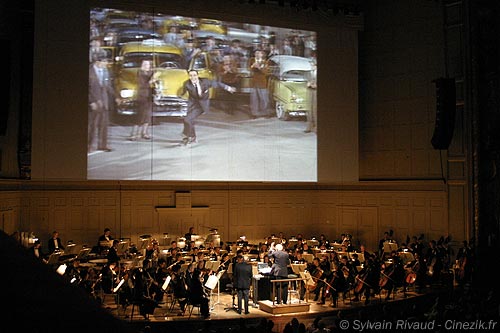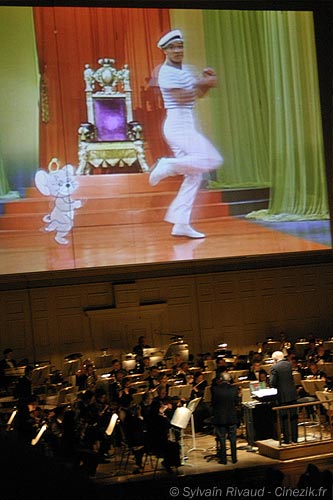 John Williams passe ainsi de Gene Kelly à Fred Astaire (qui danse ici dans ROYAL WEDDING, 1951), pour conclure cet hommage avec le classique des classiques de la comédie musicale : CHANTONS SOUS LA PLUIE et retrouver ainsi Gene Kelly à l'écran et en musique, avec la célèbre séquence de danse sur le trottoir sous la pluie.
Pour finir, John Williams conclut avec deux célèbres thèmes de science-fiction : la marche de SUPERMAN et en rappel, l'ouverture de STAR WARS (voir la vidéo en bas de page). Deux morceaux toujours aussi populaires qui déchaînent l'audience, petits et grands ! Histoire de rappeler à ceux qui l'avaient oublié que c'était bel et bien un concert de John Williams, mine de rien. Ça fait toujours son petit effet.
Sylvain Rivaud

Photos du concert du 28 mai 2009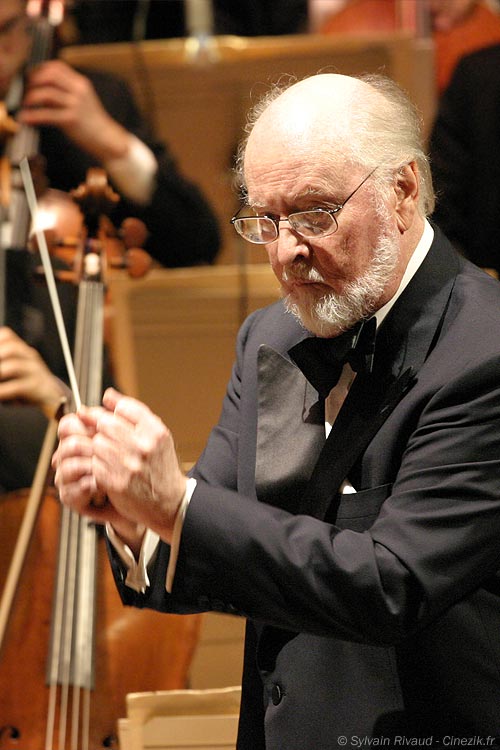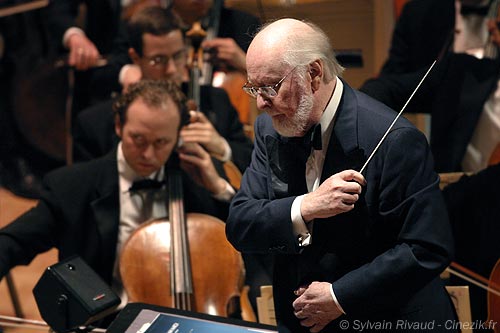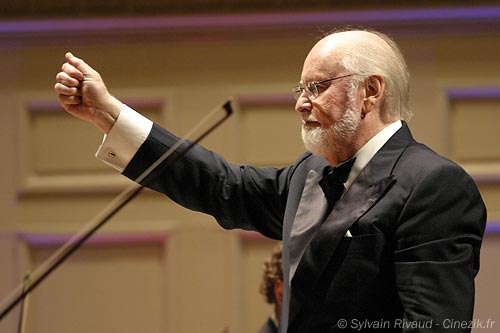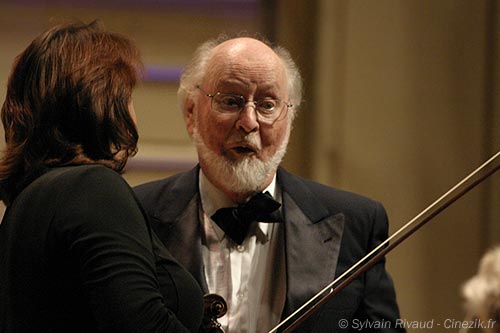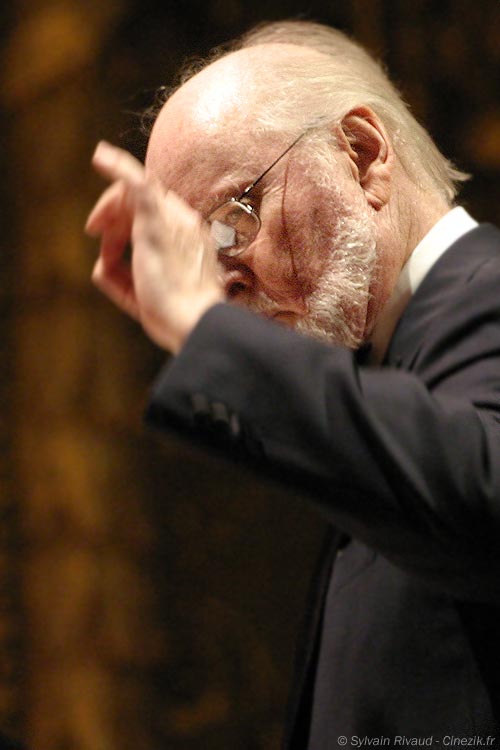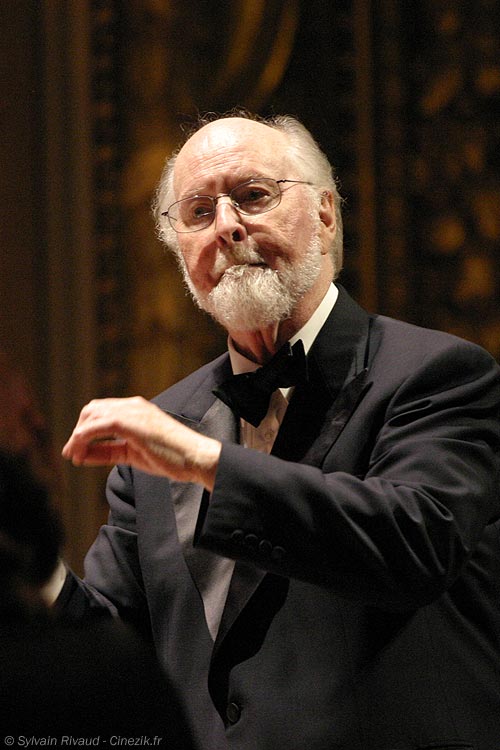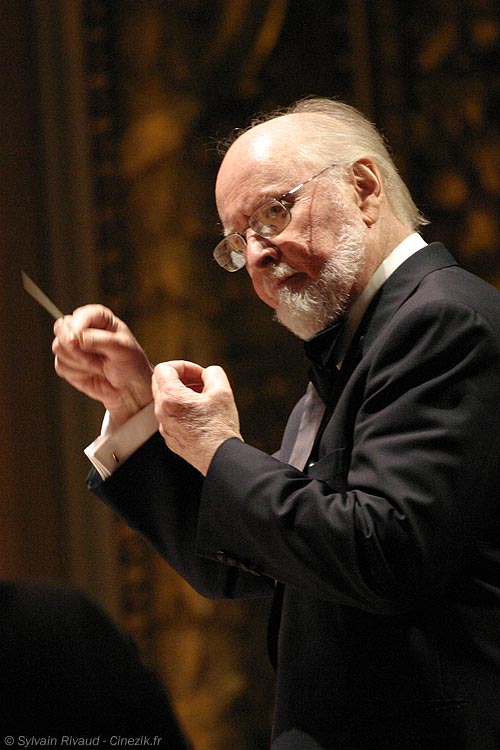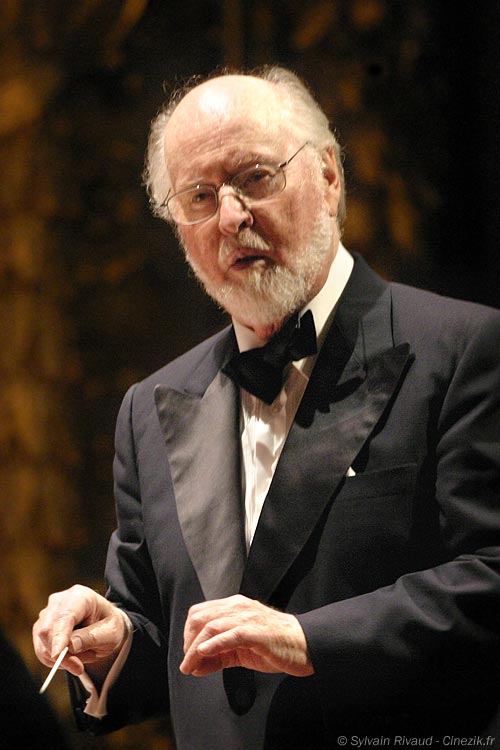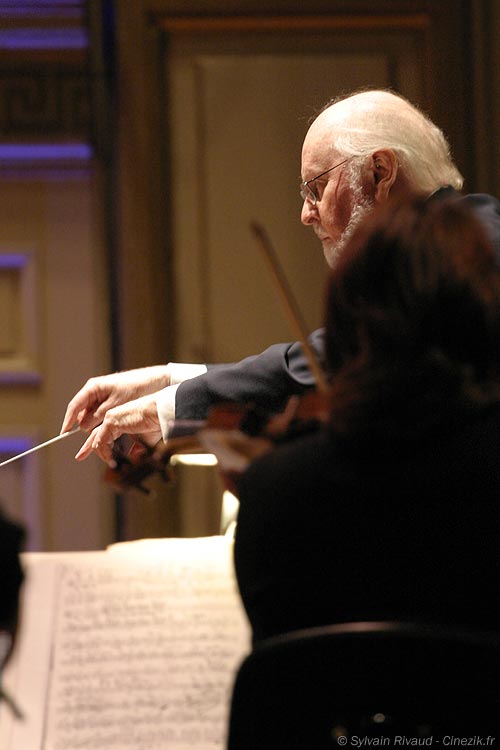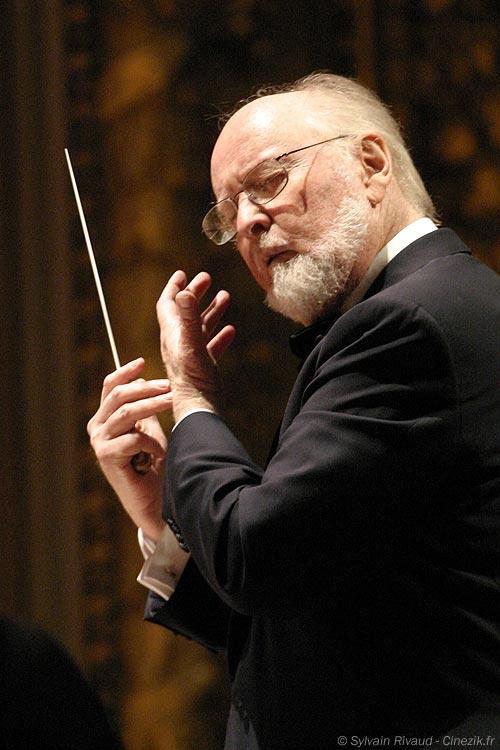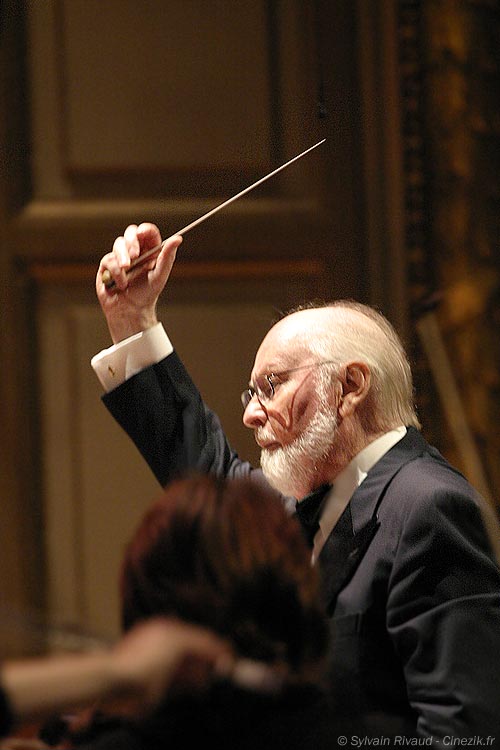 John Williams et Stanely Donen
Vidéo : John Williams dirige "Stargazers", arrangement pour harpe de E.T.
Vidéo de David Reyes pour Cinezik
Vidéo : John Williams dirige STAR WARS (avec Stanley Donen à la fin)

Vidéo de David Reyes pour Cinezik