World Soundtrack Awards: Tribute to the Film Composer
• • • • Compilation




Le Film Fest Ghent propose cette compilation qui réunit des pièces enregistrées par tous les lauréats du prix "Film Composer of the Year Award", dont Angelo Badalamenti, Nicholas Britell, Carter Burwell, Mychael Danna, Alexandre Desplat, Patrick Doyle, Michael Giacchino, Elliot Goldenthal, James Newton Howard, Alberto Iglesias, Jóhann Jóhannsson, John Williams et Gabriel Yared. On y trouve aussi la toute première version de la fanfare des World Soundtrack Awards écrite par Elmer Bernstein et l'hommage "Tribute to the Film Composer" arrangé par John Williams qui rassemble 23 thèmes différents de films primés ou nommés aux Oscars. La musique a été enregistrée avec le Brussels Philharmonic et dirigée par Dirk Brossé.
[© Texte : Cinezik] •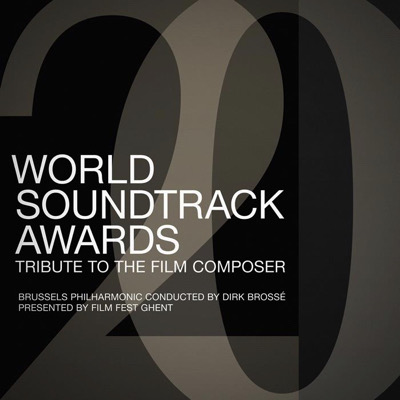 Compilation • Silva Screen Records (23 octobre 2020)


Tracklist (de la BO en CD ou Digital)
1. World Soundtrack Awards Fanfare - Elmer Bernstein
2. Red Sparrow Overture - James Newton Howard
3. Fear - Main Title - Carter Burwell
4. Hable con ella - Soy Marco - Alberto Iglesias
5. Cobb (Suite) - The Homecoming - Elliot Goldenthal
6. Troy (Suite) - Gabriel Yared
7. When at Last the Wind Lulled - Jóhann Jóhannsson & Rutger Hoedemaekers
8. Hook - The Face of Pan - John Williams
9. Succession (Suite) - Nicholas Britell
10. Monsoon Wedding (Suite) - Mychael Danna
11. The Imitation Game (Suite) - Alexandre Desplat
12. Murder on the Orient Express - Never Forget (Instrumental Version) - Patrick Doyle
13. Star Trek, into Darkness and Beyond (Suite) - Michael Giacchino
14. Twin Peaks: Fire Walk with Me - The Voice of Love - Angelo Badalamenti
15. Tribute to the Film Composer - John Williams, arr.
Voir le calendrier des B.O
Autour de cette BO
Calendrier des Films & Séries
Artistes variés
Vos avis