Notion / F.A.Q
Quelles sont les musiques rejetées du cinéma ?

-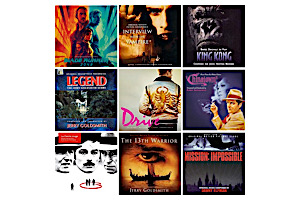 Les musiques rejetées (Unused Music, ou Rejected Score) sont des musiques originales (écrites et enregistrées pour un film) écartées suite à l'eviction du compositeur du projet, soit au profit d'un nouveau compositeur, soit dans la volonté de s'abstenir de musique, ou alors de maintenir les musiques préexistantes de référence. Les plus grands artistes en ont fait les frais. Voici la liste (n'hésitez pas en commentaire de bas de page à signaler des omissions).
---
---
Titre du film (Compositeur rejeté > Compositeur suivant)
1932
Les Chasses du Comte Zaroff / The Most Dangerous Game (W. Franke Harling > Max Steiner)
1940
Le Cavalier du désert / The Westerner (Dimitri Tiomkin > Alfred Newman)
1951
Les Aventures du capitaine Wyatt / Distant Drums (Alex North > Max Steiner)
1956
Planète interdite / Forbidden Planet (David Rose > Louis et Bebe Barron)
1958
Libre comme le vent / Saddle the Wind (Jeff Alexander > Elmer Bernstein)
1960
Les Sept Mercenaires / The Magnificent seven (Dimitri Tiomkin > Elmer Bernstein)
1966
Le Rideau déchiré / Torn Curtain (Bernard Herrmann > John Addison)
1968
2001 : L'Odyssée de l'espace / 2001: A Space Odyssey (Alex North > musiques de références maintenues)
Le Peuple des abîmes / The Lost Continent (Benjamin Frankel > Gerard Schurmann)
Barbarella (Michel Magne > Bob Crewe & Charles Fox)
1969
Le Rendez-vous / The Appointment (Michel Legrand > John Barry - version britannique > Stu Phillips - version américaine)
Davey des grands chemins / Sinful Davey (John Barry > Ken Thorne)
Les reivers / The Reivers (Lalo Schifrin > John Williams)
La bataille d'Angleterre / Battle of Britain (Sir William Walton > Ron Goodwin)
1970
Le Cercle rouge (Michel Legrand > Éric Demarsan)
Love Story (Burt Bacharach & Jimmy Webb > Francis Lai)
1971
Panique à Needle Park / The Panic in Needle Park (Ned Rorem > aucune musique au final)
1972
Frenzy (Henry Mancini > Ron Goodwin)
Guet-apens / The Getaway (Jerry Fielding > Quincy Jones)
1973
L'exorciste / The Exorcist (Lalo Schifrin > Jack Nitzsche)
Le fantôme de Cat Dancing / The Man Who Loved Cat Dancing (Michel Legrand > John Williams)
Police puissance 7 / The Seven-Ups (Johnny Mandel > Don Ellis)
1974
Chinatown (Phillip Lambro > Jerry Goldsmith)
Voyage au bout du monde (François de Roubaix > pièces de Maurice Ravel)
1976
La Rose et la flèche / Robin and Marian (Michel Legrand > John Barry)
La Loi de la haine / The Last Hard Men (Léonard Rosenman > Jerry Goldsmith - temp track maintenu).
1977
Les passagers (Eric Demarsan > Claude Bolling)
1978
Coma / Patrick (Brian May > Goblin - en remplacement uniquement sur la version alternative italienne)
Casey's Shadow (Elmer Bernstein > Patrick Williams)
1979
La Vie privée d'un sénateur / The Seduction of Joe Tynan (Michael Small > Bill Conti)
Apocalypse Now (David Shire > Carmine Coppola)
1980
La Porte du paradis / Heaven's Gate (Ennio Morricone > David Mansfield)
La grosse magouille / Used Cars (Ernest Gold > Patrick Williams)
Serial (Kenny Ascher > Lalo Schifrin)
1981
Wolfen (Craig Safan > James Horner)
Le Choc des Titans / Clash of the Titans (John Barry > Laurence Rosenthal)
Neighbors (Tom Scott > Bill Conti)
1982
La flambeuse de Las Vegas / Jinxed! (Lalo Schifrin > Miles Goodman & Bruce Roberts)
Avec les compliments de l'auteur / Author! Author (Johnny Mandel > Dave Grusin)
1983
La Foire des ténèbres / Something Wicked This Way Comes (Georges Delerue > James Horner)
1984
Les Rues de feu / Streets of Fire (James Horner > Ry Cooder)
Témoin indésirable / Ordeal by Innocence (Pino Donaggio > Dave Brubeck)
1985
The Journey of Natty Gann / Natty Gann (Elmer Bernstein > James Horner)
Legend (Jerry Goldsmith - director's cut, version britannique > Tangerine Dream - pour la version américaine)
Lifeforce (James Horner > Henry Mancini)
D.A.R.Y.L. (John Williams >
1986
The Golden Child (John Barry > Michel Colombier)
Howard... une nouvelle race de héros / Howard the Duck (Lalo Schifrin >
John Barry)
L'invasion vient de Mars / Invaders From Mars (Christopher Young > David Storrs)
1987
Wall Street (Jerry Goldsmith > Stewart Copeland)
Hellraiser (Coil > Christopher Young)
1988
Cocktail (Maurice Jarre > J. Peter Robinson)
Stars and Bars (Elmer Bernstein > Stanley Myers)
Alien Nation (Jerry Goldsmith > Curt Sobel)
Young Guns (James Horner > Brian Banks & Anthony Marinelli )
Le Grand bleu (Eric Serra > Bill Conti pour la version américaine)
1989
Permis de tuer / Licence to Kill (John Barry > Michael Kamen )
1991
À propos d'Henry / Regarding Henry (Georges Delerue > Hans Zimmer)
Le sous-sol de la peur / The People Under The Stairs (Graeme Revell > Don Peake)
1992
Jennifer 8 (Maurice Jarre > Christopher Young)
Gladiateurs / Gladiator (Jerry Goldsmith > Brad Fiedel)
Et au milieu coule une rivière / A River Runs Through It (Elmer Bernstein > Mark Isham)
Year of the Comet (John Barry > Hummie Mann)
Bodyguard (John Barry > Alan Silvestri)
L'oeil public / The Public Eye (Jerry Goldsmith > Mark Isham)
1994
Entretien avec un vampire / Interview with the Vampire (George Fenton > Elliot Goldenthal)
La rivière sauvage / River Wild (Maurice Jarre > Jerry Goldsmith)
Les complices / I Love Trouble (Elmer Bernstein > David Newman)
Picture Bride (Cliff Eidelman > Mark Adler)
1995
L'Île aux pirates / Cutthroat Island (David Arnold > John Debney)
The Scarlet Letter / Les Amants du nouveau monde (Ennio Morricone > Elmer Bernstein > John Barry)
Assassins (Michael Kamen > Mark Mancina)
Lancelot : Le Premier Chevalier / First Knight (Maurice Jarre > Jerry Goldsmith)
Instant de bonheur / Two Bits (Maurice Jarre > Carter Burwell)
Waterworld (Mark Isham > James Newton Howard)
Fair Game (Michael Kamen > Mark Mancina)
Judge Dredd (Jerry Goldsmith > Alan Silvestri)
1996
Last Man Standing / Dernier recours (Elmer Bernstein > Ry Cooder)
Mission : Impossible (Alan Silvestri > Danny Elfman)
Lame de fond / White Squall (Maurice Jarre > Jeff Rona)
La Rançon / Ransom (Howard Shore > James Horner)
2 jours à Los Angeles / 2 Days in the Valley (Jerry Goldsmith > Anthony Marinelli)
Simples secrets / Marvin's Room (Thomas Newman > Rachel Portman)
L'Île du Dr. Moreau / The Island of Dr. Moreau (Wojciech Kilar > Zbigniew Preisner > Gary Chang)
Poursuite / Chain Reaction (James Newton Howard > Jerry Goldsmith)
1997
Air Force One (Randy Newman > Jerry Goldsmith)
Le collectionneur / Kiss the Girls (Carter Burwell > Mark Isham)
Volte/Face - Face/Off (Mark Isham > John Powell)
Rosewood (Wynton Marsalis > John Williams)
1998
Au-delà de nos rêves / What Dreams May Come (Ennio Moriconne > Michael Kamen)
Chapeau melon et bottes de cuir / The Avengers (Michael Kamen > Joel McNeely)
Trois Anglaises en campagne (Philippe Sarde > Brian Lock)
Les Misérables (Gabriel Yared > Basil Poledouris)
La Courtisane / Dangerous Beauty (Rachel Portman > George Fenton)
Goodbye Lover (John Barry > John Ottman)
1999
Sexe intentions / Cruel Intentions (John Ottman > Edward Shearmur)
Le Treizième guerrier / The 13th Warrior (Graeme Revell > Jerry Goldsmith)
2000
Les Destinées sentimentales (Antoine Duhamel > emprunts au repertoire classique)
Le plus beau des combats / Remember the Titans (John Debney > Trevor Rabin)
Chinese Coffee (Howard Shore > Elmer Bernstein)
The Patriot (David Arnold > John Williams)
Kuzco, l'empereur mégalo / The Emperor's New Groove (Marc Shaiman > John Debney)
2001
Course folle / Rat Race (Elmer Bernstein > John Powell)
Domestic Disturbance (Jerry Goldsmith > Mark Mancina)
Texas Rangers (Marco Beltrami > Trevor Rabin)
Scary Movie 2 (George S. Clinton > Mark McGrath)
Lara Croft: Tomb Raider (Michael Kamen > Graeme Revell)
2002
Gangs of New York ( Elmer Bernstein > Howard Shore)
2003
Tout peut arriver / Something's Gotta Give (Alan Silvestri > Hans Zimmer)
Timeline (Jerry Goldsmith > Brian Tyler)
Gigli (Carter Burwell > John Powell)
Espion mais pas trop! / The In-Laws (Lalo Schifrin > Klaus Badelt & James S. Levine)
Open Range (Basil Poledouris > Michael Kamen)
Hulk (Mychael Danna > Danny Elfman)
2004
Troie / Troy (Gabriel Yared > James Horner)
I, Robot (Trevor Jones > Marco Beltrami)
Mango Kiss (Lalo Schifrin > Matthew Ferraro)
2005
Une vie inachevée / An Unfinished Life (Christopher Young > Deborah Lurie)
King Kong (Howard Shore > James Newton Howard)
Serenity (Carter Burwell > David Newman)
Anthony Zimmer (Bruno Coulais > Frédéric Talgorn)
2007
À l'intérieur (Raphael Gesqua > François-Eudes Chanfrault)
Le Prix à payer (Philippe Sarde > Philippe Eidel)
2010
The Tourist (Gabriel Yared > James Newton Howard)
Edge of Darkness (John Corigliano > Howard Shore)
2011
Drive (Angelo Badalamenti > Cliff Martinez)
2013
Oldboy (Michael Nyman > Roque Banos)
Romeo & Juliet / Romeo and Juliet (James Horner > Abel Korzeniowski)
2014
Edge of Tomorrow (Ramin Djawadi > Christophe Beck)
2015
Night Run / Run All Night (Alan Silvestri > Junkie XL)
2016
Hacksaw Ridge / Tu ne tueras point (John Debney > Rupert Gregson-Williams)
Rogue One : A Star Wars Story (Alexandre Desplat > Michael Giacchino)
Cézanne et moi (Vangelis > Éric Neveux)
2017
Blade Runner 2049 (Jóhann Jóhannsson > Hans Zimmer)

2021
Black Widow (Alexandre Desplat > Lorne Balfe)
Eiffel (Nicolas Godin > Alexandre Desplat)
Nos Articles sur ce sujet
Vos avis